LBF – Family Business Awards: Di Tran – Co-Founder of New American Business Association Inc – 05-18-2021
Tell us about your role with your company and how you've contributed to making the business better.
As the founder, I am the business leader, motivator, finance officer, and chief labor worker. I simply wear multiple hats as any small business owner would. The key is, I enjoy doing all those things and love helping every single individual that I interact with, one way or another. There's no job that is too small or too big. Lead by example, learn like a life-long student, be a mentee to many and be a mentor to a lot.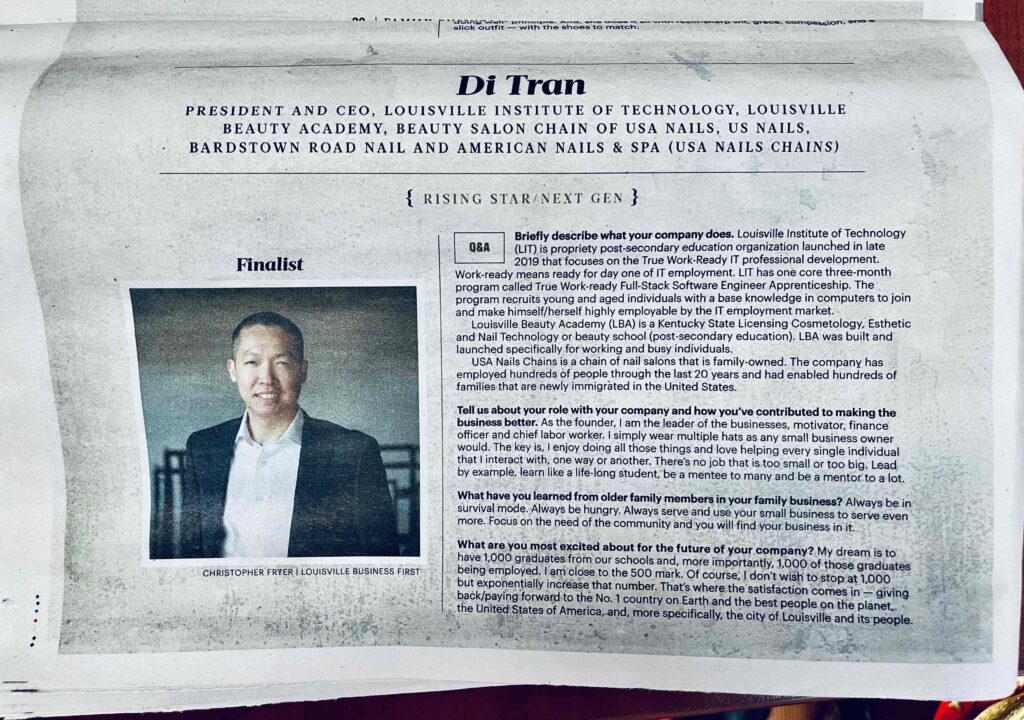 What have you learned from older family members in your family business?
Always be in survival mode. Always be hungry. Always serve and use your small business to serve even more. Focus on the need of the community and you will find your business in it.
What are you most excited about for the future of your company?
My dream is to have 1,000 graduates from our schools and, more importantly, 1,000 of those graduates being employed. I am close to the 500 marks. Of course, I don't wish to stop at 1,000 but exponentially increase that number. That's where the satisfaction comes in — giving back/paying forward to the No. 1 country on Earth and the best people on the planet, the United States of America, and, more specifically, the city of Louisville and its people.
Where would you like your career to be in 10 years?
I don't focus on my career nor plan that far for myself or my career. My eye and mind are on a very specific target of what I want to accomplish, and that is those 1,000 graduates and many of those I mentor be successful. I want to die happy and smiling that I did pay it back to this No. 1 country on Earth that has accepted me and made it my second home for my family and my children.
What is something you think your generation does in terms of business better than any other generation?
Better is not the term I would use because if we read the history, processes, and rules for business success never change. As an example, small business success comes from hard work, persistence, failing a lot (fail 99 and win 1), and still do it. The rule never changes.
I would say different times require different minds and require consistent adaptation. In this world, technology is at the forefront of everything and so it is for small businesses. Learning usage and adoption of technology is a must. The older generation probably catches up slower than us, and we are slower than the next generation. It's also a simple law of life — we get old and we tend to do what we know best. And I say it's not a bad idea to stick to what you know best 80% of the time, which allows the 20% to change, even when we are old, to adapt.
Who is a business leader (outside of your own business) in Louisville you admire and why?
I don't have an idol for small business, but I have and idol for life and way we live in life — and that person is my mom.
I have always wished to have David Jones Sr. and now David Jones Jr. to be my mentor so I can learn the magnificent transformation and contributions that they made for the city of Louisville through Humana and other companies.
References
https://www.bizjournals.com/louisville/news/2021/05/18/family-business-awards-di-tran.html